Young Crow starred in burger ad before AFL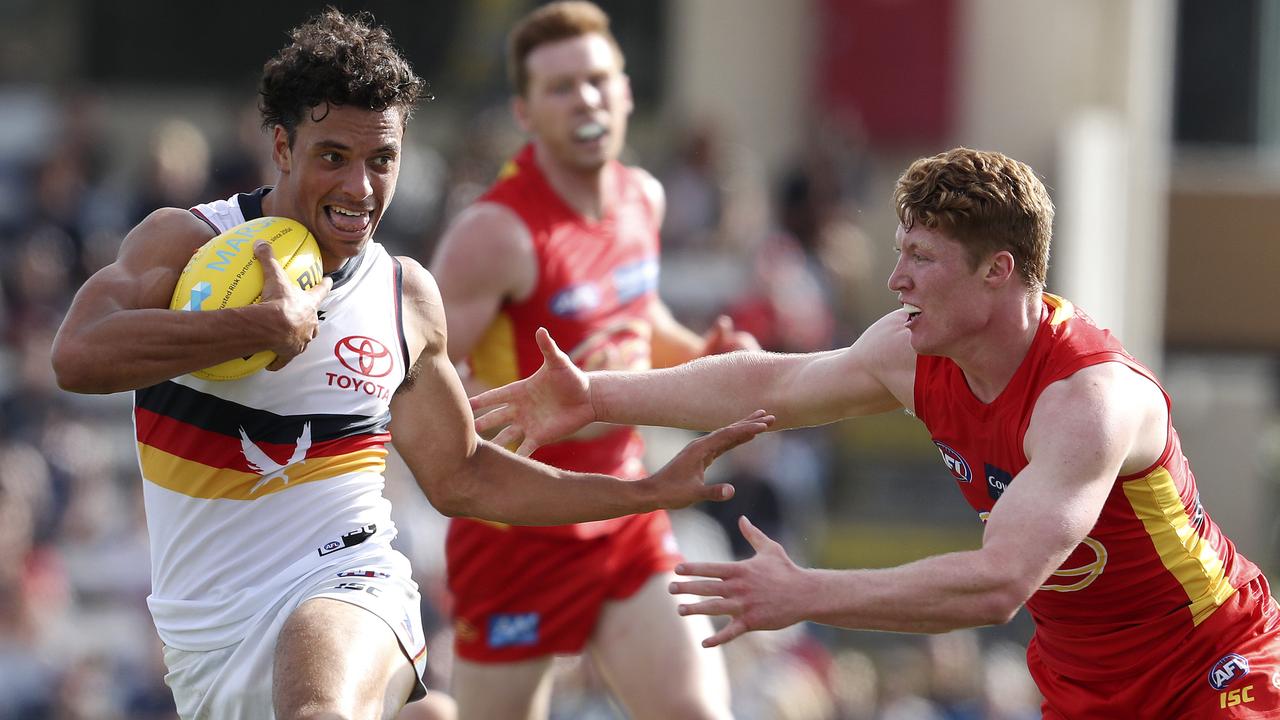 Adelaide Crows fans would know about the exciting young forward, who can also play on the wing as the 'link man' for the club's SANFL side, from his two senior games.
But while the wider public might not know who the 22-year-old from Sydney is, they might just recognise his face from their TV screens.
Before Davis was selected by the Crows with the 75th pick of the 2016 Draft, he was literally plucked off the street to be in a Hungry Jacks commercial promoting their "hormone free burger".
He even delivers the final line – "so that's why the burgers are better at Hungry Jacks".
Watch 15,000+ hours of on-demand sports content with KAYO SPORTS. The biggest Aussie sports and the best from overseas. Just $25/month. No lock-in contract. Get your 14-day trial >
"It's so funny, I was full cruising through Westfield East Gardens back home with my girlfriend Ruby and this lady came up to us," Davis tells The Advertiser.
"And she didn't even say Hungry Jacks, she just said 'oh, you guys look pretty fit and healthy, would you like to be in an ad?'.
"And we were like 'oh yeah', and they said it was for a healthy meat meal.
"So, we went through all the questions, 'how old are you, blah blah blah', and it turned out that Ruby was too young for it, but I was old enough so I went along to this thing and there were actors there who had applied to be in the ad.
"So, we were sitting down at the table, there are three actors on the table with me.
MORE NEWS
Footy Flashback: Round one, 1993: Crows v Tigers, MCG
Nicks sticking by assistant coaches
Note-taker Jones sticking with what he knows
Crows go it alone, won't accept AFL funds
Tex not keen on state-based hubs
"I'm the only one who got pulled off the street and the dude that was directing the advertisement was making the first guy who did it do about 15 takes, the next guy did like 15 takes, the next guy did 10 takes.
"And he wasn't happy with any of it, so he was like 'what about that guy?' and pointed at me and they said 'that's the guy from the street, he's not an actor'.
"He was like 'I don't care, just give him a go at it', I did about two or three takes and he was like 'yep, got it' and I was like 'are you serious' and he said 'yeah, yeah'."
Because Davis got the speaking role in the final edit, he received $2000 instead of the basic $500 for a non-speaking part – plus a lot of Hungry Jacks during shooting.
"They needed to bring out more for me, I was going through it so quickly," he said.
Even when Davis moved to Adelaide, he still got emails seeing if he would want to have another crack on camera.
It didn't take long for his new teammates to find out about this.
"Eddie (Betts) still gives me sh*t about it," Davis said.
"He's in Melbourne now, he's playing for an entirely different team and I still cop it from him.
"He was relentless, he would bring it up at any chance he could get.
"When we drafted Shano (Shane McAdam) and we had a 'mob' night it was dead silent and Eddie would just be like 'hey Shano, did you know that Benny Davis was in a Hungry Jacks commercial?'
"I copped it."
DAVIS MAKES HIS DEBUT
After his debut against Geelong in Round 15 last year, Davis had to wait 267 days to taste AFL action again when he ran out at an empty Adelaide Oval for Round 1 against Sydney.
He now faces another long wait for his third senior game.
"You know what I might do to keep the trend running, I might just take it pretty easy in the games because I'm used to having a three or four month break in between games so I don't want to break that trend," Davis said.
"I'll just take it a bit easy, just chill in the SANFL for a bit and when the time is right I'll put my hand up again.
"It definitely is a bit annoying, you would love to have a normal season especially with the pre-season training, doing all that and having everything set in place.
"But at the same time you just have to keep it in perspective, you can't get too down about that because there is a lot of other stuff going on.
"But it would have been nice to have a Round 2 in place and have a normal season because I just felt I had so much momentum, it was the best I had been training and playing.
"I was really happy with myself going into that."
A big part of this was Davis able to truly be himself during pre-season.
If you haven't realised by now, the young Crow isn't like most AFL players.
"I'm definitely weird," he said.
And new coach Matthew Nicks encourages him to embrace this.
"He's unreal with that sort of stuff, he is a big advocate for fun," Davis said.
"He's just let me know that I play my best footy when I'm being myself, not taking life too seriously … that's something that has just helped me take my game to the next level.
"He is a different coach to Pykey (Don Pyke) and he is one that I really connected with and felt like I could be myself around.
"So I was a lot louder, I was being myself, I was being an idiot at training when I could and I was being serious when I had to.
"And I think that mix just let me play my best footy and that's why I got to where I was at in Round 1."
GETTING BACK TO AFL LEVEL
Securing a spot in the Crows' Round 1 team had been a goal for Davis after his brief taste of AFL football.
"After that game against Geelong, it sort of gave me the confidence that I could be at that level and gave me that extra motivation to train even harder and become a better player," he said.
"Because I wanted to be in that spot every week, I wanted to be in that 22 every week, so that sort of drove me in that pre-season."
On his debut at a ground where the Crows generally struggle, Davis finished with seven disposals, two marks and a tackle and was sent back to the SANFL despite calls for Adelaide to give the youth like him a chance.
He admits it was challenging not being selected for the remainder of the AFL season.
"There were some games in the SANFL where I was like, 'yeah I deserve my spot', and there were others when I sort of dropped off a bit and that's when they needed that consistency," he said.
"That's what I worked on during pre-season, just that consistency in training and games which helped me now.
"Like any normal person you have times where you aren't as motivated as you potentially should be, but I had Heath Younie (Crows SANFL coach), he's really good with that stuff in putting things into perspective and driving us younger boys.
"So, there were days when I was not as motivated as I should be and that's when I had 'Unit' (Younie), 'Radar' (Brent Reilly) and 'Wrighty' (Matthew Wright) all pushing us along and keeping us in check."
ARRIVING AT ADELAIDE
It was fitting in a way that Davis made his second appearance for the Crows in the AFL against Sydney, given that he probably should have been a Swan.
A member of the Swans' first-ever academy crop, Davis thought he would be staying in Sydney when the 2016 Draft came around.
But he didn't realise that not nominating for the previous year's draft, because of injury, meant the eligibility he had to be selected by the Swans had lapsed.
"To go all the way through and to be told you couldn't be picked up by them, I was just rattled, I didn't mind as long as I got picked up (by any AFL club)," he said.
"It was because I had stress fractures in my draft year I thought there would be no way a club would pick me up not playing any games, so I just didn't nominate and then it turns out as an over-age player if you didn't nominate for the draft in your draft year you weren't eligible for an academy selection any more.
"So, that was weird."
STAYING MOTIVATED IN ISO
Back in Sydney, Davis is sticking to the Crows' program they gave him to stay fit each day – saying he needs to train as if he is playing next week.
But with a lot more free time in self-isolation, Davis putting his efforts into painting – he has just finished one of a dolphin – learning songs on guitar, with Keep Your Head Up by Ben Howard the latest he's mastered, and some hilarious videos on social media.
"I've put up some rare stuff on Tik Tok aye, I've put up some chronic stuff on Instagram as well," he said.
"I love putting up stuff anyway, but not that I've got so much time on my hands, I've sort of lost the plot a bit.
"It's generally the weird ones it gets to and I'm definitely weird, but I think all the other boys are holding up pretty well."
So far in Sydney this has comprised of trick shots with a ping pong ball, and grand plans of scaring his mum Karen.
"(The family is) absolutely stoked to have me back here because it's crazy times, and to have me back they are loving it," he said.
"So if coronavirus doesn't get her, a heart attack will because I'm scaring her every day when she comes around the corner.
"I'm actually going to put together a compilation of all the times I scare her – you know, those videos you see where it's just people getting scared like 50 times back-to-back-to-back. "I'm going to do one of those and put that up when I get a heap of videos together, so that will be unreal."
CHECK OUT DAVIS IN THE AD BELOW: