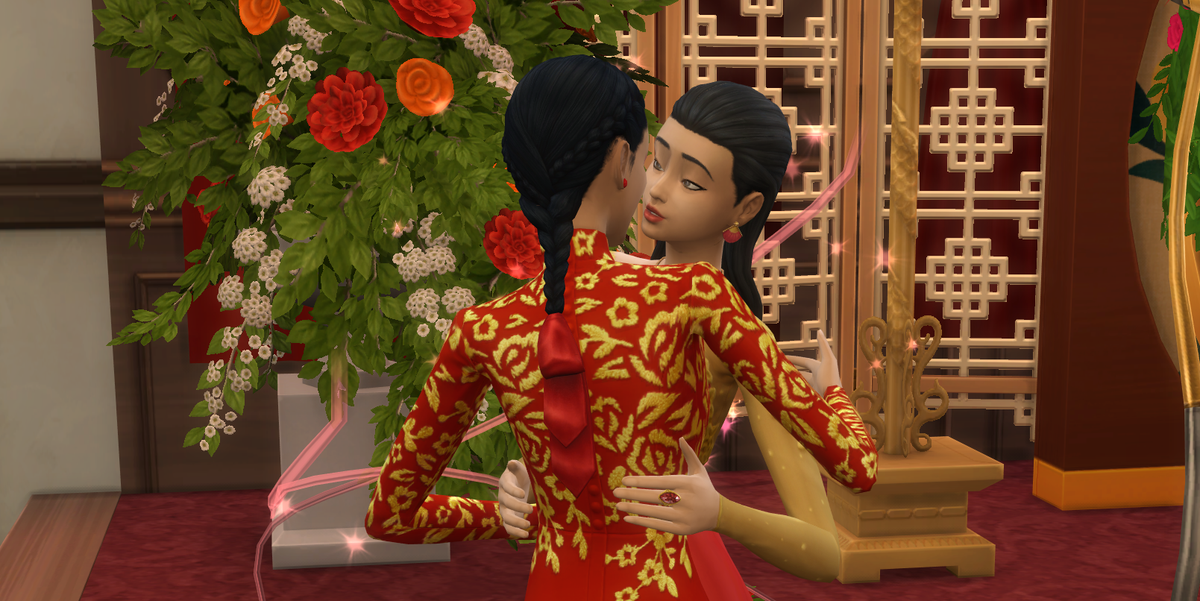 There was much anticipation when My Wedding Stories was announced as The Sims 4's latest pack, and understandably so. An ongoing game needs to evolve and find ways to keep players engaged, and for The Sims 4, which is nearly eight years old now, that means building on the core experience and presenting Simmers with more options to tell impactful, personal and organic stories with their Sims.
My Wedding Stories sounded like a winning concept, taking a pivotal period of a couple's life that had been left a little underdeveloped in the base game and fleshing it out to make the storytelling behind romantic relationships more meaningful and intimate. But the end result is memorable for the wrong reasons.
As soon as two Sims get engaged, they can start planning for the big day – and there's a lot to organise, from bach parties and rehearsal dinners to the wedding ceremony itself. The big sell is that everything is intended to be fully customisable so each love story can be unique.
Take the ceremony, for example. In addition to choosing your 'Sims of Honor', officiant, ring bearer, flower pal and guests, how the event is run is very much in your hands. Maybe you want a walk down the aisle, or have speeches or toasts, or the guests to blow bubbles or throw rice. You can decide before the event starts, and a checklist will keep track of everything that's been completed.
The big problem is, the pack is in an alarmingly terrible state. So much of it is downright broken to the point where it's truly surprising the release was not further delayed. Dream weddings turn into nightmares. For clarity, all issues we're about to describe are from our time with the content post-launch, after we installed the release-day patch.
Putting it bluntly, we didn't have one event that went smoothly, and worse yet, each wedding ceremony we tried had bugs that completely ruined the experience. We were never able to exchange vows in front of an officiant (we only had some success without one), and in two separate cases, we could not get the couple to marry at all no matter how hard we tried, leading us to cancel the wedding.
One time, both of the marrying Sims were completely broken and weren't responding to any input. Restarting the game did not fix the issue, and we ended up Googling and coming across the "resetSim" cheat command to be able to continue playing.
Even when the Sims were being vaguely responsive, the ceremonies often turned into an incoherent mess. When the wedding event starts, the marrying Sims don't show up in their wedding attire, even if you went shopping and picked out your outfits beforehand.
While this can be fixed manually before you walk down the aisle, more frustrating is the fact that none of the guests ever show up in formal clothes either, instead wearing everyday attire despite the game asking you during the wedding planning to set a dress code and colour scheme. With no way to change any of your guests' outfits on the spot, this is something we had to live with, but the immersion always broke immediately.
Asking the guests to sit down was similarly frustrating. Some listened and found a chair, while others decided to remain standing. A couple of events we held saw some Sims sit then get up after a few seconds, refusing to stay still.
Non-invited guests sometimes show up. Walking down the aisle doesn't go smoothly if standing guests block your path; one time, a guest wouldn't stop autonomously dancing in front of the wedding arch. There were times when the kissing animation glitched. Seated guests occasionally don't get up when it's time to do other activities like throwing rice or catching the bouquet. When toasts are made, sometimes the guests don't pay attention and prefer to chat among themselves.
One particularly irritating experience saw the seated guests indulge in large group conversations among themselves; they did not stop chatting even when the couple were walking down the aisle and exchanging vows. It felt the opposite of special.
The ironic thing about all of this is, the pack wants you to craft unique wedding experiences for your Sims by making you micromanage so many different individual aspects – some Simmers will like the idea of that, others, who prefer more organic storytelling, perhaps less so – but no matter how much micromanaging you do, it's impossible for any event and especially any wedding ceremony to go as planned because of the Sims' unresponsiveness and immersion-breaking behaviour.
One bride, during a beach wedding, autonomously started digging into sand on two occasions, before and after exchanging vows. The second time, she found a sea bass which she put into her inventory.
Wedding cakes were frustrating, too. The cakes themselves look great and have great variety in their design and the toppers. But we never managed to get the married couple to successfully cut the cake when the moment came, and there were times when the cake itself spoiled due to their relatively short shelf life.
Your mileage may vary when it comes to these issues, but we're not the only ones who have found the pack riddled with bugs. Fans have been vocal about the current state of the pack, so even if the concept and the features make this a must-play for you, we highly recommend that you wait until the developers hopefully iron out most of the bugs in future updates.
There are parts that we can speak more positively about. It's nice to see that diversity and inclusion were on EA and Maxis' minds when developing the content, from promoting LGBTQ+ marriages to representing non-Western cultures.
Being of Chinese heritage, this writer tried to replicate a traditional Chinese wedding and it went well, aside from all of the bugs and jank. The two Sims hosted a tea ceremony, married at a government office, and held a wedding banquet. The pack also comes with red wedding attire as well as, via the gallery, a Chinese-inspired wedding venue that was great for the banquet (Hispanic, Indian, chapel, and beach venues are available as well).
More options and interactions to make the wedding feel more personal would have been nice and appreciated, but it's a decent attempt overall. It's just a shame that it's very difficult to enjoy this properly with the broken gameplay.
The other notable highlight is the Mediterranean-inspired world of Tartosa, a location that's worthwhile to explore from the village square, where you can buy what you need such as wedding cakes, dresses and bouquets, to the several beaches and impressive waterfall. It's a world that feels fairly fleshed out, and is great for a sightseeing trip or a honeymoon.
However, we come back to the fact that at its worst – if you're unfortunate with the abundance of bugs and issues as we were during our extensive time with the content – this pack is unplayable. And we can't help but feel that this is a result of the base game, launched in 2014, crumbling under the weight and pressure of the developers' ambitions to evolve the Sims experience.
There have been signs of the engine feeling dated for a while now. User interface issues like Discover University's timetables, Nifty Knitting's Plopsy store, and Cottage Living's reliance on a tedious inventory system were inconvenient rather than game-breaking, but we also had Journey to Batuu's mission structure and Dream Home Decorator's buggy interior decorator career that arguably would have been served better by an engine that was built with these ideas in mind.
That's not to say it's impossible to develop well-made packs for The Sims 4 several years on. In fact, some of the packs mentioned above were received well, we really liked Snowy Escape, and there are positives in My Wedding Stories that can be appreciated. But this pack raises major questions about how much longer The Sims 4 can realistically hold out.
Version reviewed: PC
Release date: Out now for PC, Mac, Xbox One, and PlayStation 4.
Developer: Maxis
Publisher: Electronic Arts
This content is created and maintained by a third party, and imported onto this page to help users provide their email addresses. You may be able to find more information about this and similar content at piano.io